PRE-ENGINEERED BUILDINGS
Reinforced concrete houses are often chosen when building factories, civil houses, and office buildings because of their durability and beautiful design, which can withstand good external impacts. However, now Pre-Engineered Buildings – (PEB) also known as the prefabricated house is preferred to be selected for use. So what is a pre-engineered steel building? How are the structure and application of pre-engineered steel buildings? Find out with Tri Viet Steel Building through the following article.
What are Pre-Engineered Buildings?
Pre-Engineered Buildings are a type of building made up of steel structures, designed and manufactured with exact quantities and detailed dimensions according to technical drawings at the factory and then brought to the factory. works to carry out the erection and finishing phase.
When installed, the components will be linked together by bolts. That way we can understand the process of making the finished product (including a combination of inspection and quality control steps. ) of a pre-engineered steel building through 3 main stages: Design – production – installation.
Structure of pre-engineered buildings
Pre-engineered steel buildings have 3 main components:
Skeletal structure: a combination of columns, steel truss, beams…
Sub-structural system: Purlins (Z, C, and U purlins…), struts for the top of the wall, rib, wall beams, and other components.
Covering system and accessories such as roof corrugated iron, wall corrugated iron…
In addition, to serve the needs of investors and customers, the designs of pre-engineered steel buildings can integrate the following structures:
Mezzanine floor, crane girders (helping to support the crane system), roof support system, walkways…..
Detailed accessories: canopies, roof extensions, frills, gutters, gutters, roof tops, ventilation systems, bracing cables…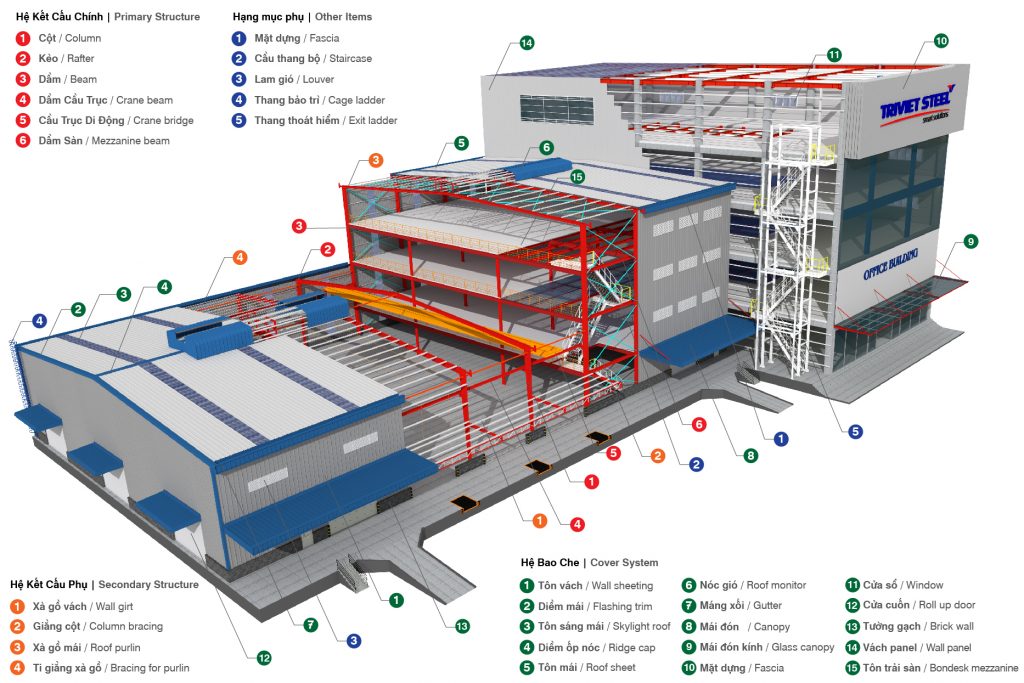 Application of pre-engineered buildings
A prefabricated house is increasingly chosen because of its versatility and high application. Suitable for many uses in the fields of industrial, agricultural, commercial, and civil with projects such as factories, warehouses, commercial centers, showrooms, convention centers, parking lots cars, and schools … Pre-engineered steel buildings solutions help investors and customers make the most of the usable area and construction time but still ensure the functionality and aesthetics.
Pre-engineered buildings should be selected for the following reasons
Savings: choosing pre-engineered steel buildings is the solution to optimize the cost of construction materials and hiring workers.
Pre-engineered steel buildings are multi-purpose buildings, suitable for many uses. Because it can be installed in combination with other structures and accessories such as crane girders, mezzanine floors, operating aisles, roof frills, and partitions….
Fast construction and erection time because the steel structures are designed and manufactured at the factory. It is then transported to the site and carried through the installation phase. At the same time, pre-engineered steel buildings that are easy to expand or add functions in design are easily and flexibly implemented based on the diverse requirements of investors and customers.
Pre-engineered steel buildings have maximum resistance to moisture because they are designed and used with good water-insulating materials and a system of vertical connecting roofs and roof fringes for good drainage.
Prefabricated houses are considered to be environmentally friendly because of their compact structure, and components are made of recyclable materials, limiting the amount of construction waste to the environment. Projects of pre-engineered steel frame buildings can be from 100 years or more.
Recently, houses made from pre-engineered steel buildings use more heat and sound insulation materials to help bring better experiences.

Why should you choose Pre-Engineered Buildings?
SAVING PRINCIPLES
MATERIALS
The saving of materials in low-bearing areas of the main frame members has made pre-engineered steel buildings more economical than conventional steel buildings, especially low-rise buildings with a width of fewer than 60m and a lower roof edge height of 30m.
DESIGN AND INSTALLATION
QUICK HANDLING
The pre-engineered steel building system uses only pre-designed connections and predefined materials to create the structure of the building. So it greatly reduces the design, production, and erection time.
FITS MULTIPLE
USES
Pre-engineered steel buildings can be fitted with various structural accessories such as mezzanine floors, crane beams, flat roof decks, elevated walkways, and other accessories such as racing roofs, roof frills, and partitions.
Good waterproofing using vertical termite roof systems, drainage components, and roof frills. This is an extremely flexible home system, allowing interior equipment to meet all functions and exterior decoration to satisfy beautiful architectural design. It is for this reason that pre-engineered steel buildings are ideal for use as factories, warehouses, showrooms, supermarkets, etc.